New Dean of Confucius Institute in Brazil Appointed
Recently, a party was held in the Confucius Institute at University of Brasilia to bid farewell to the former dean of the same institute, Ms. Guo Zhiyan and to welcome the newly appointed dean Ms. Wang Lijuan. Management heads of the university, representatives from local Chinese communities and businesses as well as teachers and students of the Confucius Institute attended the party.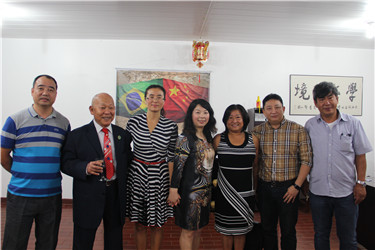 Sônia Nair báo, vice president of University of Brasilia, Eiiti Sato, director of International Office and Enrique Huelva Unternbaumen, the foreign dean of the Confucius Institute made remarks respectively at the party to highly praise Guo's contribution to the growth of the institute during her tenure and to look forward to Wang's future work. Guo expressed her gratitude to all the staff members for their cooperation over the two years and Ms. Wang showed her confidence in her future work and the cooperation between China and Brazil.
The party ended in the atmosphere of sincere friendship and deep blessing.